At Swarthmore: Gender WHAT?
An anti-gay hate crime at Swarthmore College? Oh no. This sort of thing could ruin
"Genderf--k!"
My
print column
is up.
Read the story in the college newspaper
here.
Despite the weird headline, the kids do an excellent job reporting the story.
WARNING: As you might imagine links contain bad words... But who knew cross-dressing could be such good clean fun?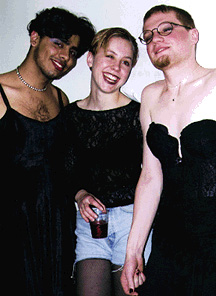 UPDATE: Among the
Tips for Genderf--k!
If you put your drink down don't pick it back up. Just grab another one — you never know what could be in it.

Water bottles will be available throughout the night. Keep hydrated because water helps hangovers.

If you are worried about your friend and they can walk, take them to Worth. If someone is vomiting and/ or unresponsive, find a PA or call Public Safety (610-328-8333). It's better to be safe than sorry.

Non-Swarthmore students (Tri-co included) will not be treated at Worth Health Center and will immediately be sent to the hospital.

If you see suspicious looking people, don't hesitate to call Public Safety immediately.

Would "suspicious looking people" include boys who are NOT wearing eye-shadow and cocktail gowns?